The Significance of the Foot
---
Lost places a special significance on the foot.
Have you noticed it yet? Heres Just a few of the mentions on the show, we have:
1. The sneakers worn by Christian.
2. The need for Jack to put special dress shoes on dead Locke, and Flocke having to walk around in those new shoes.
3. Sawyer who in one case steps on a stick.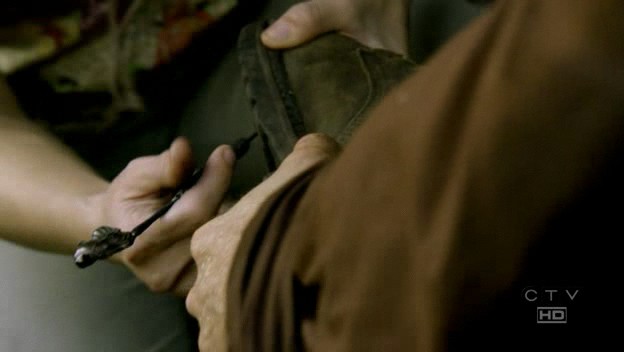 4. Sawyer who in other case steps on dart.
5. Locke, one of the first clips we see of him is his "naked feet" with no shoes after the crash.
6. Locke breaks his leg and we see his foot in a cast.
7. When Flocke goes to see Sawyer at the barracks and Sawyer is drunk, the first thing we see are his feet.
8. In the Brig, Sawyer walks in the jungle in his barefeet.
9. Sun pushs Jin shoes under the bed with her naked feet.
10. And, then of all things we have the statue. The statue is destroyed all but its feet.
So some might think its random that TPTB have just happened to spend so much footage on the foot and its just coincidental. However, its another clue to the entire key of Lost.
Ultimately this is a simple and one of the most significant clues in the show.

Where you "stand" and what you stand on is your "Position" on something. And your position on something, simply put is "your philosophy". So basically all of these clues once again present that Lost is first and foremost a story about philosophy. A history of philosophy told as a thought experiment game/test. And typically these feet references also refer messages directly to "philosophy changes" and hint directly to the philosophical references points they present.
Sawyers naked feet
– No philosophy, in search of a new philosophy, can't make up his mind on what his philosophy is.
Jacobs statue
– The "body" of his philosophy destroyed and all that remains is the "base" or the "fundamentals" of his philosophy.
Locke on island with no shoes
-- Arrives with "no philosophy" and Jacob and MiB fight for him to be on their team and their philosophy.
Christian and Flocke with different shoes
– Arrive on island and their philosophy is "not truly their own".
Sawyer's dart to the foot
– Sawyers philosophy has been attacked or injured.
Lockes feet in a cast
– Locks philosophy is "broken" and being rehealed into a new philosophy ultimately even with a new name.
People have been searching for all kinds of "complex" hidden messages
to the show for 6 years and the whole time,
its been right in front of their
feet
.
Views
7304
Comments
2
Comments